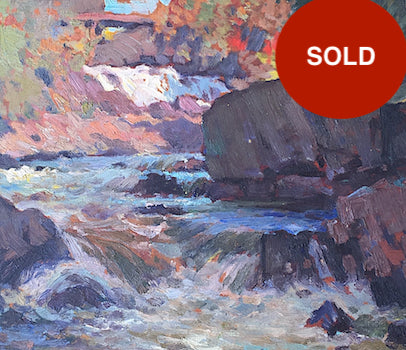 J. W. BEATTY "BROOK'S FALLS" CIRCA 1932
Description:
Oil on panel

Sight: 10.5 x 13.75 inches

Unsigned
Undated, circa 1932

The Artist: J. W. Beatty (Canadian, 1869-1941)
Painting in Northern Ontario and accompanying Group of Seven members and Tom Thomson on various sketching trips, J. W. Beatty (1869-1941) was a painter who strove to develop a uniquely Canadian art.  Born in Toronto, Beatty attended school until the age of 13 at which time he was apprenticed to an engraving firm. After preliminary instruction in Toronto, Beatty studied in London and in Paris at the Académie Julian. He also travelled in Holland, Belgium, Italy and Spain. Upon his return to Toronto, he taught art classes and painted in Quebec and Northern Ontario.
In 1909, he sketched with Lawren Harris in Haliburton in the spring and Memphremagog in the fall – this may have been the earliest northern sketching trip by a Group of Seven member. In 1914, Beatty sketched in Algonquin Park with J.E.H. MacDonald and A.Y. Jackson. Beatty's work is generally considered to have been an early influence on Tom Thomson – the two sketched together in Algonquin Park and they both had space at the Studio Building in Toronto. It was Beatty who built the cairn to Thomson's memory at Canoe Lake in 1917. 
Beatty was elected to the Ontario Society of Artists and the Royal Canadian Academy of Arts and was president of the Arts and Letters Club in 1912. In spring of 1914, he was commissioned by the Canadian Northern Railway to paint in the Rocky Mountains, though few paintings are known from this trip. During World War I, he was commissioned as a war artist and attached to the Canadian Expeditionary Force in 1917. He travelled to Britain and the front lines in France. On his return to Canada, Beatty returned to teaching at the Ontario College of Art, and by 1921 he was the College's Acting Principal. He remained at OCA until his death in 1941. His work was shown at Toronto galleries including the Jenkins Gallery, J. Merrit Maloney, Robert Simpson Company and the Fine Art Galleries, T. Eaton Co. Ltd., as well as internationally at the Jeu de Paume, Paris, the 1924 Wembley exhibition in England and the Boston Arts Club. The year after his death in Toronto in 1941, the Art Gallery of Toronto held a joint memorial exhibition for Beatty and Clarence Gagnon.
Beatty's work is held in private, corporate and public collections including the National Gallery of Canada and the Art Gallery of Ontario.
The Story: This painting came from the collection of artist George Paginton, a good friend of Beatty's. Beatty was Paginton's first and only art instructor. Paginton took over Beatty's studio beside A.Y. Jackson's in the Studio Building when Beatty passed away.

Terms: All sales are final. No refunds or exchanges. See "Buy Art" in the main menu for more information.