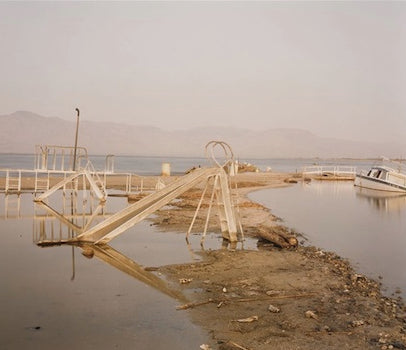 RICHARD MISRACH "SALTON SEA (SLIDE)" 1983/1986
Description:
Chromogenic Colour Print
Edition 1/25
Numbered, titled, signed dated on lower margin 
Dated: 1983
Printed: 1986
Image: 18 x 22 7/8 inches; sheet: 20 x 24 inches
Image: 46 x 58.3 cm; sheet: 50.3 x 61 cm
Condition: Very Good
Framed; 24.5 x 29.5 inches, Blonde wood with plexiglass
Provenance: Private collection, purchased in California
Vintage print
The Artist:  Richard Misrach (American, 1949-)
Richard Misrach was born in Los Angeles in 1949 and received a BA in psychology from the University of California, Berkeley. He helped popularize large format color photography in the 1970s and 80s and is best known for Desert Cantos, his ongoing study of the American desert and man's relation to it.
"For over thirty years, Richard Misrach has photographed the natural landscape and man's effect on it. With an eye attuned to color and a belief in the power of aesthetics to effect change, he has made lush, beautiful photographs of often terrible subjects. He is perhaps best known for his Desert Cantos, an extensive and ongoing series exploring the splendors and horrors of the American desert—man-made floods and fires, military-scarred terrain, pits of dead animals, and sublime night skies. Like an epic poem, the series is divided into cantos, now numbering twenty-eight. 
"The most interesting and original American photographer of his generation," David Littlejohn, The Wall Street Journal.
Misrach's photographs are held by the Metropolitan Museum of Art; the Museum of Modern Art; the National Gallery of Art in Washington, DC; and the Whitney Museum of American Art, among others.
                                                                     Mary O'Donnell Hulme
The Story:  From the series Desert Canto III – The Flood, "Salton Sea (Slide)," focuses on the Salton Sea, a lake that was created by an engineering mistake at the beginning of the twentieth century. The lake was stocked with fish in the 1950s to promote tourism but became permanently flooded a few decades later, leaving odd and often ironic reminders of human folly poking out of the water..." (Art Institute Chicago) 
Packaging and Shipping: Packaging and shipping within Canada is $120. Signature required on delivery. At checkout, you will have the option to insure your purchase for shipping from the drop down menu. International shipping available. If located in the Greater Toronto Area, no charge for shipping and packaging if picked up from Wall Fiction's office; call before purchasing.

Terms: All sales are final. No refunds or exchanges. See "Buy Art" in the main menu for more information.
Item No. CA20210801