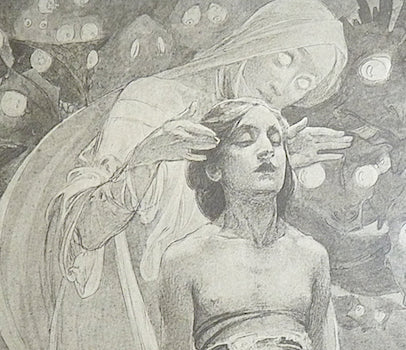 ALPHONSE MUCHA "LE PATER - LEAD US NOT INTO TEMPTATION BUT DELIVER US FROM EVIL" 1899
To zoom in, click on each image and mouse over.
Description:
Vintage reproduction Art Nouveau print 

18 x 14 inches framed

Signed in print: "Mucha"

Untitled, allegorical scene "Lead Us Not into Temptation But Deliver Us From Evil"

Condition: excellent

Framed: beautiful in gold with blue accent frame with blue mat.
The Artist: Alphonse Maria Mucha (1860-1939) is most often remembered for the prominent role he played in shaping the aesthetics of French Art Nouveau at the turn of the century. As a struggling and relatively unknown artist of Czech origin living in Paris, Mucha achieved immediate fame when, in December 1894, he accepted a commission to create a poster for one of the greatest actresses of this time, Sarah Bernhardt. Though the printer was apprehensive about submitting Mucha´s final design because of its new unconventional style, Bernhardt loved it and so did the public. ´Le style Mucha´, as Art Nouveau was known in its earliest days, was born. 
The Story: Mucha created drawings based on the Lord's Prayer – Le Pater – which were published on December 20, 1899. He took each verse of the prayer and added rich illustrations to it that included occult motifs and enigmatic figures. Only 510 copies of the book were produced. Mucha considered this his masterpiece.
Shipping Information: Packaging and shipping within Canada is $50. Signature required on delivery. At checkout, you will have the option to insure your purchase for shipping from the drop down menu. International shipping available. If located in the Greater Toronto Area, no charge for shipping and packaging if picked up from Wall Fiction's office; call before purchasing.

Terms: All sales are final. No refunds or exchanges. See "Buy Art" in the main menu for more information.
Item No. CA201609045