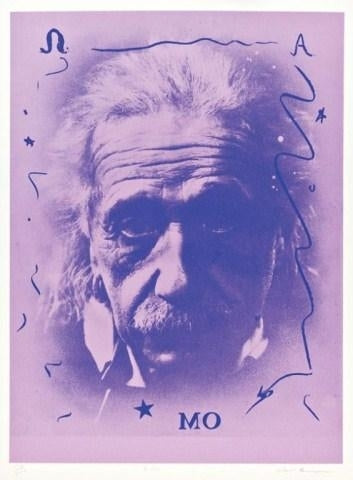 CARL BEAM "EINSTEIN MO" 155/200
To zoom in, click on each image and mouse over.
Description:
Fine Art Print
Serigraph on paper
Titled, signed and numbered in lower margin
Edition: 155/200
Framed: 30 inches x 22 inches, 76 cm x 56 cm
Condition: excellent
The Artist: Carl Beam (Canadian, 1943-2005)

Carl Beam is an artist who works in a variety of media to explore the tensions between Western and Aboriginal relations. In his autobiographical work, he references himself as an Ojibwa, and places his Native culture within broader surroundings. He brings to attention problems that affect contemporary Native cultures and shows, through his juxtaposition of images, how these concerns relate to larger world issues. Through his work Beam integrates personal memory with issues related to the environment, brutality, and a rethinking of the ways histories are told.
Beam was born in West Bay on Manitoulin Island in 1943. His formal studies of art began at the Kootenay School of Art in British Columbia in 1971, and he transferred to the University of Victoria in 1973. Beam received his MFA at the University of Alberta in Edmonton in 1976. In his training he was influenced by artists Jasper Johns and Robert Rauschenberg for their collaging of images from popular culture and expressive handling of paint and printing, and Andy Warhol for his use of photo-silkscreen processes. (Penticton Gallery)
The Story: Beam employs a range of media, including painting, printmaking, and sculpture. The collage and photo-transfer techniques he often uses allow him to visually bring together subjects and events from different historical moments that he infuses with political commentary. His contemporary art-making strategies serve and empower his engagement with the struggle of Aboriginal people in the late 20th century.
This print was donated by Ann Beam to the Tom Thomson Art Gallery to support their fundraising auction in 2012.
Shipping Information: Packaging and shipping within Canada is $50.  At checkout, you will have the option to insure your purchase for shipping at up-to-$500; you will be able to select the option you prefer from the drop down menu. International shipping available. If located in the Greater Toronto Area, no charge for shipping and packaging if picked up from Wall Fiction's office; call before purchasing.

Terms: All sales are final. No refunds or exchanges. See "Buy Art" in the main menu for more information.
Item No. consignment