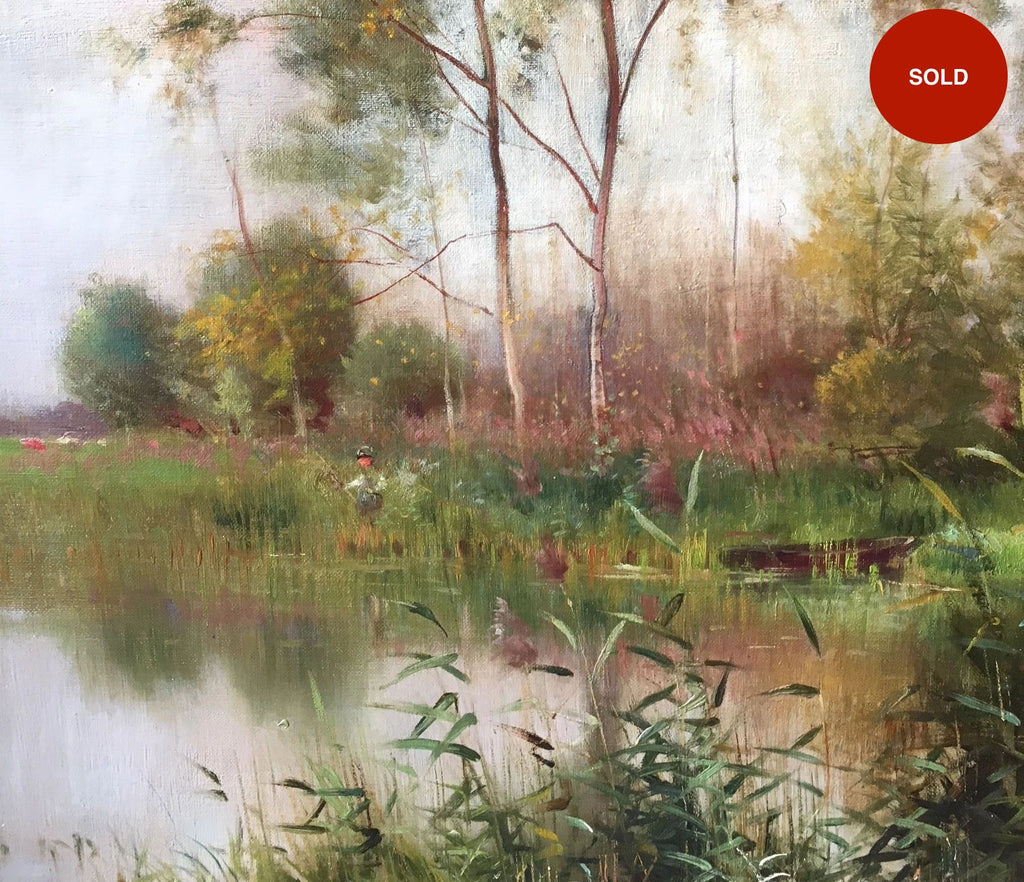 ERNEST PARTON "BEDFORDSHIRE" 1878
To zoom in, click on each image and mouse over.
Description:
Oil on canvas 

Sight: 23.5 x 16 inches

Frame: 31 x 23 inches

Signed lower left
Dated: circa 1878

Condition: excellent

Provenance: part of family estate for many years

Inscribe on verso in pencil: "Ernest Parton No 23 ***  *** (illegible, could be river "Great Ouse") Bedfordshire"
The Artist: Ernest Parton (American, 1845-1938)
Ernest Parton was born in Hudson, New York, at a time when the region was a hub of artistic activity thanks to Thomas Cole and his Hudson River School. The self-taught landscape artist was largely inspired by his older brother, Arthur, who inspired him to paint from nature rather than to learn by formal training; his work recalls Jean-Baptiste-Camille Corot and Charles-François Daubigny in its muted, atmospheric quality. He traveled to Europe in 1873, intending to visit for few months, but ended up staying after finding success in London; he split the rest of his life between England and France. When his painting The Waning of the Year (1879) was shown at the Royal Academy, a critic remarked (speaking of English painting), "if we go on in this manner we shall, in the international race, overtake France one of these days."
In 1910, Austin Chester, a critic in Windsor Magazine, lauded Ernest Parton as a "student of the theory of light, 'who had succeeded in apprehending and showing the abstract beauty of nature.'" Parton exhibited at home and abroad at the National Academy of Design, Pennsylvania Academy of the Fine Arts, Paris Salon, and the Paris Exposition of 1899. Both he and his brother and fellow landscapist, Arthur Parton, grew up along the Hudson River in Hudson, New York and refused formal training in favor of painting from nature. Paintings by Ernest Parton can now be seen at the Brooklyn Museum of Art and the Columbia County Historical Society.
The Story: This lovely painting by a known and collected artist has been in the same family for years. The artist is known for his British landscapes and this is a fine example.
Shipping Information: Packaging and shipping within Canada is $90. Signature required on delivery. At checkout, you will have the option to insure your purchase for shipping. International shipping available. No charge for shipping if picked up from Wall Fiction's office in Toronto; call before purchasing.

Terms: All sales are final. No refunds or exchanges. See "Buy Art" in the main menu for more information.
Item No. CA201809038