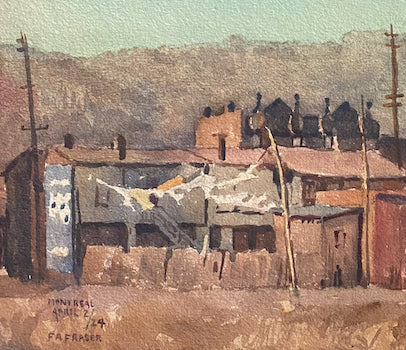 FREDERICK A. FRASER "MONTREAL" 1924
To zoom in, click on each image and mouse over.
Description:
Created April 2, 1924
Watercolour on board
Signed LL
Dated with location "Montreal April 2, 1924" on LL corner
Image: 8 x 10 inches
Unframed
Condition: Very Good
The Artist: Frederick A. Fraser was a Canadian watercolour and printmaker. 
Fraser began working at a young age of 11 due to family troubles. His first job was in the commercial printing industry at Photo Engravers where he polished stones used in the printing process. His creative talent and developing interest in art allowed him to move to typesetting and move then into the art department.
Fraser was an artist who contributed to the distinctive tradition of Canadian painting. He knew the work of earlier Canadian painters and his peers including Group of Seven members along with Quebec-based watercolourists and wood engravers such as Edwin Holgate and Goodridge Roberts; his work was exhibited with theirs. 
Shipping Information:  Packaging and shipping within Canada is $60. Signature required on delivery. At checkout, you will have the option to insure your purchase for shipping from the drop down menu. International shipping available. If located in the Greater Toronto Area, no charge for shipping and packaging if picked up from Wall Fiction's office; call before purchasing.

Terms: All sales are final. No refunds or exchanges. See "Buy Art" in the main menu for more information.
Item No. FAF0179