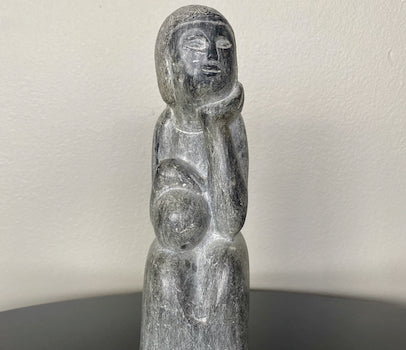 JOHN LIM "GIRL WITH MELON" 1973
To zoom in, click on each image and mouse over.
Description:
Soapstone
Signed on back
1973
Sight: 10 x 3 x4 inches
Condition: excellent
Provenance: Shaw-Rimmington Gallery January 8, 1971
The Artist: John Lim (Canadian,1932-)
A painter, printmaker, sculptor, author and illustrator, John Lim was born in Singapore and has lived in Toronto, Ontario, Canada since 1964. He held a solo show at the Shaw-Rimmington Gallery, Toronto.
His work was noted by the "Globe and Mail" as follows, "John Lim has ventured into his first bronzes, then modestly limited them to an edition of one only. One assumes it's modesty because his bronzes are fine enough to tempt a number of owners. Lim is cautious, restricting himself to a safe vocabulary. All sculptors eventually have to do a Daedalus and a Mother and Child and a Reclining Figure. But with these exercises he's finding his way into the real ideas—the tension he asks of a suspended torso or the strong way, in Eros, that he roughly splits a column to get his two figures."

He exhibited with the Society of Canadian Artists (Toronto) in 1972 and the Stratford Art Association (Stratford, Ontario) in 1973.
Shipping Information:  Packaging and shipping is $110. Signature required on delivery. International shipping available. If located in the Greater Toronto Area, no charge for shipping and packaging if picked up from Wall Fiction's office. Call before purchasing.

Terms: All sales are final. No refunds or exchanges. See "Buy Art" in the main menu for more information.