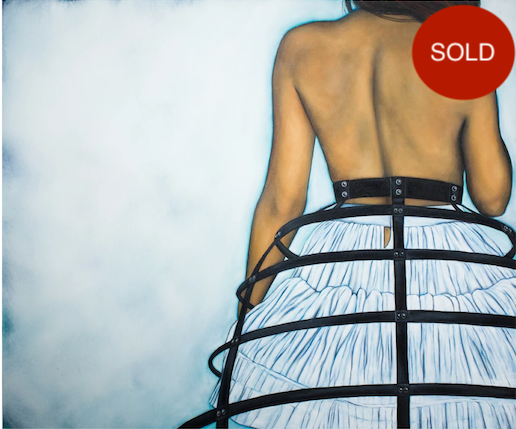 LAURA THIPPHAWONG "THE LION AT YOUR DOOR" 2017
To zoom in, click on each image and mouse over.
Description:
Oil on canvas
Unsigned

24 inches x 30 inches, 60.96 cm x 76.2 cm
Condition: excellent
The Artist: Laura Thipphawong is an emerging Toronto-based artist, writer, and historian, and has exhibited art and presented her research throughout several prestigious galleries and international academic forums. As a self-taught oil painter since the age of twelve, Laura made her way from small-town Northern Ontario to Toronto in order to pursue a career in the arts. She is now a graduate and Medal winner from OCAD University with a degree in Visual and Critical Studies, and of the University of Toronto with a Master's in Art History. Her studio practice is representative of her research on the complex symbolism of the psyche in response to various social factors, with focus on sexuality, horror, folklore, and science.
The Story: Purchased at one of the artist's first shows at Coldstream Fine Art, Toronto, from the "All in a Sea of Wonders" series in 2017.
ALL IN A SEA OF WONDERS
"I am all in a sea of wonders. I doubt; I fear;
I think strange things, which I dare not confess to my own soul."
―Bram Stoker,Dracula

"Learning to live with fear has been the ever-evolving consequence of my childhood, and accordingly, the foundation of my adult life. The complex system of external, internal, tangible, and perceived dangers brought on throughout the journey of life must be constantly negotiated with the mind's eye in order to survive, and also to thrive as the director of one's own life. This negotiation is only possible if we are able to explore our fears, thus subverting them, taking control and willingly facing terrifying obstacles with open eyes staring brazenly into the darkness.

For this series I have pieced together and personalized several archetypal images, using my research in Jungian psychoanalysis of folklore and fairy tales to create allegories of fear, exploration, and transformation within a world of chaos. The scope of the work, as with many classic fairy tale and mythological narratives, honors those curious and brave enough to dive into the belly of the beast. It is only through adversity and unsettlement that we can expect to grow and transform. Our readiness to become aware of the dangers in our path, and our willingness to acknowledge elements of our inner selves that cause skewed perceptions of these dangers are the keys to self-discovery, allowing us the opportunity and ability to hone and find beauty in fear, chaos, and the unknown."         Laura Thipphawong
Shipping Information:  Packaging and shipping within Canada is $50. Signature required on delivery. At checkout, you will have the option to insure your purchase for shipping from the drop down menu. International shipping available. If located in the Greater Toronto Area, no charge for shipping and packaging if picked up from Wall Fiction's office; call before purchasing.

Terms: All sales are final. No refunds or exchanges. See "Buy Art" in the main menu for more information.
Item No. CA202001082