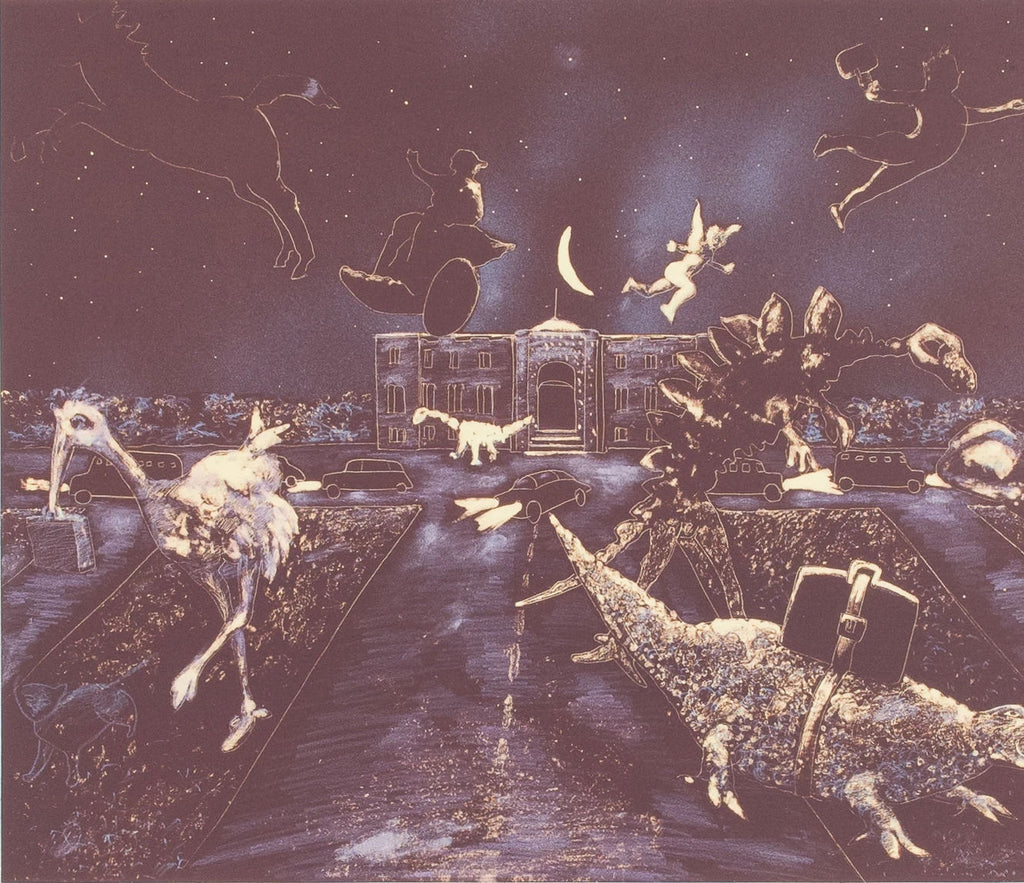 LOUIS DE NIVERVILLE "MOONLIGHTING" 81/150 1979
To zoom in, click on each image and mouse over.
Description:
Fine Art Print
Coloured Lithograph
Titled, signed and numbered in lower margin
Edition: 81/150
28 inches x 22 inches, 71 cm x 56 cm
Condition: excellent
The Artist: Louis de Niverville (Canadian 1933 - ) is a painter. Self-taught, Niverville worked from 1957 to 1963 as a graphic designer for the Canadian Broadcasting Corporation in Toronto alongside Dennis Burton and Graham Coughtry. The turning point in his work, when he considers he really started to paint, was in 1966-67 with a mural for Expo Theatre in Montréal. After that he developed a formidable technique, particularly with collage, to express an astonishing, visionary world often wrought from childhood memories. Niverville's work is characterized by fresh and provocative thought. He directs his dreams, orchestrating their curious juxtapositions, strange happenings and colours into his paintings. Since 1988, he has lived and worked in Vancouver.

The Story: Produced as part of a tribute to the Royal Ontario Museum, this print was originally a series of five packaged in editions of 150 produced by the Gnomon Publishing Limited & Company of Toronto and bears the chops marks of Open Studio, Nick Novak and the ROM. This print is signed and numbered.
Shipping Information: Packaging and shipping within Canada is $50. Each print is shipped in a protective sleeve and backing. At checkout, you will have the option to insure your purchase for shipping at up-to-$500; you will be able to select the option you prefer from the drop down menu. International shipping available. If located in the Greater Toronto Area, no charge for shipping and packaging if picked up from Wall Fiction's office; call before purchasing.

Terms: All sales are final. No refunds or exchanges. See "Buy Art" in the main menu for more information.
Item No. KA201606050