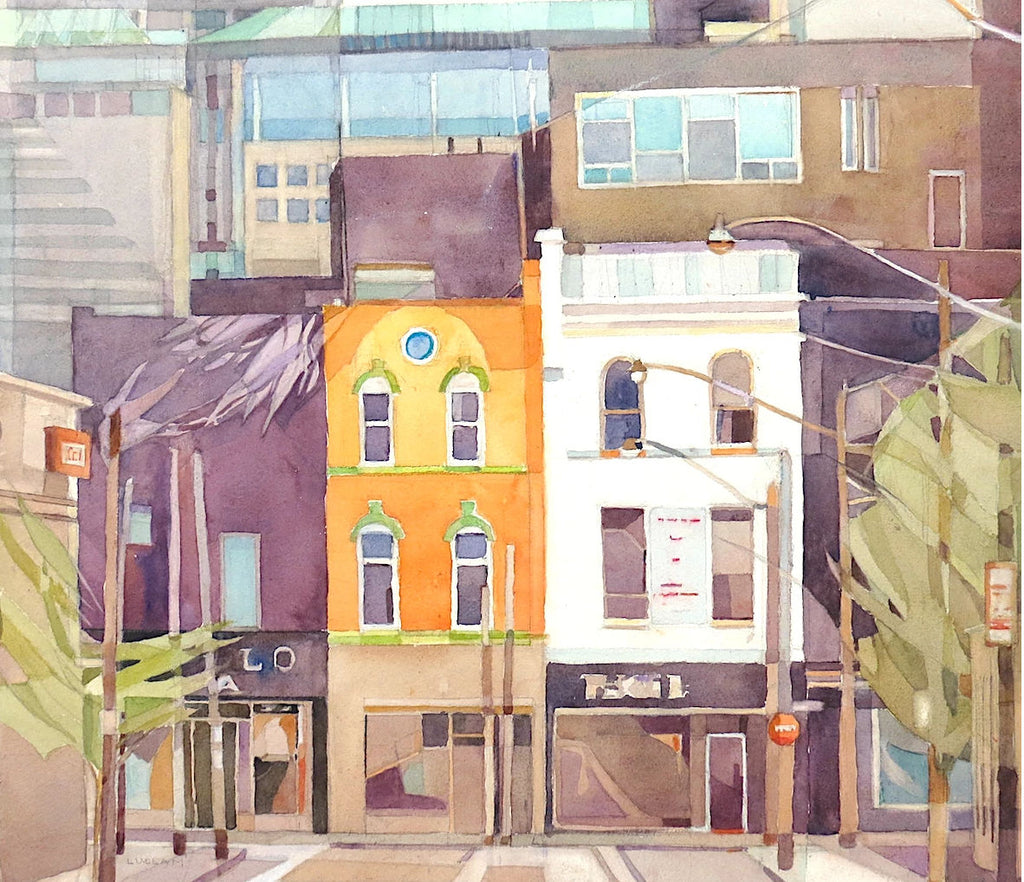 MARY ANNE LUDLAM "WHERE McCAUL MEETS QUEEN TORONTO, ON" 2014
To zoom in, click on each image and mouse over.
Description:
Watercolour on acid free paper

Paper: 22 x 22 inches

Framed: 33 1/4 x 33 1/4 inches

Signed lower left
Dated 2014
Artist's Inventory No. 1617

Condition: excellent

Provenance: Artist's Estate

Frame: Gold burnished metal with white mat under glass
The Artist: Mary Anne Ludlam (Canadian, 1931-2016) ( A.O.C.A., A.R.I.D.O., C.S.P.W.C., O.S.A., S.C.A)
Mary Anne graduated in Interior Design & Architecture from the Ontario College of Art in 1954. As the recipient of the Gordon C. Leitch Travelling Scholarship she attended the Fontainebleau School of Fine Art & Music in France, during 1955.

For the next 25 years, she became a prominent contract designer involved in creating major projects in Toronto's booming office towers. Her projects included corporate head offices, golf clubs, medical clinics and law facilities.
Her clients included Elizabeth Arden, Canadian Cancer Society, Canadian General Electric, Household Finance and the first head office of the Toronto Blue Jays.

In 1980, her interests changed into creating works in the medium of watercolour. By mid decade she had been elected to the prominent Canadian organizations CSPWC, OSA & SCA. As a participant in over 70 juried shows, Provincial, National and International she has received over 30 major awards.

Her work is in both private and corporate collections around the world including British Airways, CIBC, Four Seasons Hotels and the Royal Collection of Water Colours, Windsor Castle. For numerous years she was represented by the Roberts Gallery of Toronto.

As a painter, she finds design in the world around her, in the city streets of Toronto, the hills of the Beaver Valley, the lakes of Ontario's cottage country, the fishing coves of Nova Scotia, the inlets of Newfoundland, the snow and ice of the Arctic, the vast spaces of the Prairies or the Inland Passage of British Columbia.

Her years as a designer have much to do with the way she paints. She responds to order, structure & balance, light, shapes & patterns wherever she finds them – in the land or the man made environment. Her artistic work depends on the visual, on finding and expressing design & pattern rather than from an emotional point of view. Her subtle and unique colours are achieved by many transparent layers of water colour applied over many days.
The Story: 
"I paint the world, not as it is but as it might be. My years as a designer have much to do with the way I paint. I respond to order, structure and balance, light, shapes and patterns – wherever I find them – in the land or in the man-made environment. Hence my artistic work depends on the visual, rather than the   emotional. The use of transparent watercolours allows me to express these images in a clear direct way. My subtle and unique colours are achieved by many transparent layers applied over many days. Many owners of my work tell me they find it restful, relaxing and thoughtful, helping them to cope with today's stressful society. When I paint the world as it could be, I am creating a more balanced atmosphere for all to see and benefit from. My background in design and order enables me to do so."   Mary Anne Ludlam
Shipping Information: Packaging and shipping within Canada is $90. Signature required on delivery. At checkout, you will have the option to insure your purchase for shipping. International shipping available. No charge for shipping if picked up from Wall Fiction's office in Toronto; call before purchasing.

Terms: All sales are final. No refunds or exchanges. See "Buy Art" in the main menu for more information.
Item No. CA201907051