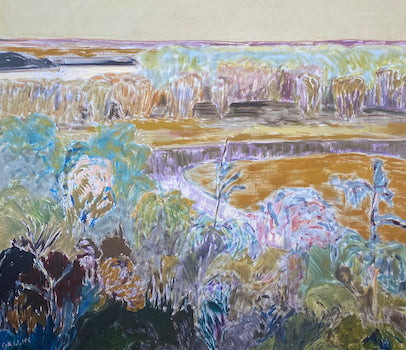 NORMAN DALLIN "LAST YEAR" 1989
Description:
Oil on Canvas
Dated: 1989
Sight: 47 ½ x 47 ½ inches
Framed: 51 x 51 inches, silver/black float frame
Condition: Very Good
Provenance: Private collection, Toronto
The Artist:  Norman Dallin (Canadian, 1948-) 
Norman Dallin was born in Saskatoon, Saskatchewan in 1948. His art studies initially took him to Toronto, where he studied at the Ontario College of Art (1969) and at Three Schools of Art (1969-1970).

Working as a carpenter and freelance artist, Dallin began exhibiting his paintings — in watercolour, acrylic, and oil — in the late 1960s. He has since shown his work across Canada in numerous solo and group exhibitions. Focused on the Saskatchewan landscape, Dallin understood his work's connection to that of his contemporaries: "My painting is really a new kind of Impressionism, tempered by formalism. I make no attempt to disguise its relationship to the work of my fellow Saskatoon landscape painters. Saskatoon artist have always worked to connect these two apparently diverse points of view."

Dallin's work is represented in numerous collections including the Canada Council Art Bank (Ottawa), MacKenzie Art Gallery (Regina), Mendel Art Gallery (Saskatoon), University of Saskatchewan, Art Gallery of Windsor, and the Alberta Art Foundation.
The Story:  Dallin's "Last Year" calls out his well-known Canadian artists, Dorothy Knowles and David Milne, and offers a unique perspective on the Prairie landscape.
Packaging and Shipping: This is a large painting and shipping will be based on location. Call us before purchasing. International shipping available. If located in the Greater Toronto Area, no charge for shipping and packaging if picked up from Wall Fiction's office; call before purchasing.

Terms: All sales are final. No refunds or exchanges. See "Buy Art" in the main menu for more information.