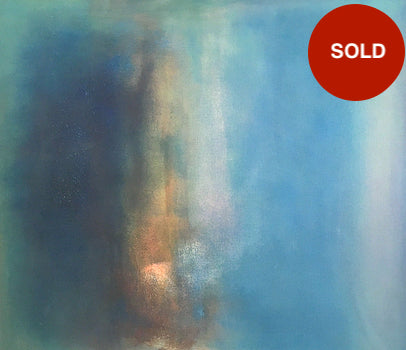 PAUL FOURNIER "UNTITLED" 1968
To zoom in, click on each image and mouse over.
Description:
Mixed media on canvas

46.5 x 43 inches

Signed on back
1968

Condition: excellent

Framed
The Artist: Paul Fournier (Canadian, 1939-)
Paul Fournier (b. 1939, Simcoe, ON) first emerged within a movement of third-generation non-figurative painters who worked in Toronto during the 1960s. His peers included Milly Ristvedt, K.M. Graham, David Bolduc and others exploring techniques and forms of post-painterly abstraction. Fournier began studies in 1959 at the Ontario College of Art and Design. He soon became known for his use of bright fauvist colours for which he was dubbed an "exotic modernist" by New York art critic Donald Kuspit. Fauvism was a post-impressionist movement in France characterized by the "wild' use of colour.

Fournier has had major solo exhibitions in Toronto, Guelph, Hamilton, Edmonton, Houston and Washington, D.C. His work was selected by critic Andrew Hudson for 14 Canadians: A Critic's Choice at the Hirshhorn Museum and Sculpture Garden and by Boston Museum of Fine Arts curator Kenworth Moffett for inclusion in The new Generation: A Curator's Choice at the Andre Emmerich Gallery in New York. In 1996, Fournier received an Honorary Doctor of Laws from Sir Wilfrid Laurier University. His paintings and graphics are included in most major public collections, including the National Gallery of Canada, the Art Gallery of Ontario, and the Tate Museum, as well as in private collections in the United States, South America and Europe.
The Story: This is an early work by Fournier; works rarely on the market. Fournier, as a highly intuitive artist with a profound belief in the expressive power of his materials, always makes us aware of the sensuality of paint, the excitement of the act of painting. His best works continue to be joyous metaphors for intense feelings about the natural world, filtered through experience of the painters he admires most, and translated into a non-specific language of gesture, inflection and color.
Shipping Information: Packaging and shipping within Canada is $90. Signature required on delivery. At checkout, you will have the option to insure your purchase for shipping. International shipping available. No charge for shipping if picked up from Wall Fiction's office in Toronto; call before purchasing.

Terms: All sales are final. No refunds or exchanges. See "Buy Art" in the main menu for more information.
Item No. CA201801028