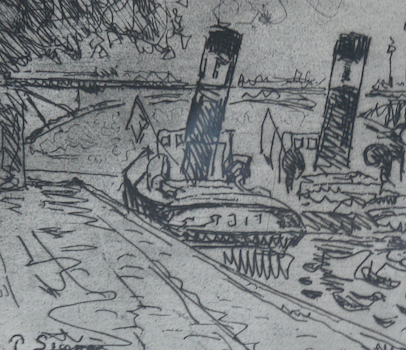 PAUL SIGNAC "PARIS: PONT DES ARTS AVEC REMORQUERS"
To zoom in, click on each image and mouse over.
Description:
Etching & Acquatint
1927
Signed in plate
Edition of 250
Image: 5 x 7 ½ inches
Frame: 13 ½ x 15 3/4 inches
Plate marks visible
Condition: very good
Framed: mat is old and showing acid burn, would recommend reframing. Not removed from frame for listing.
The Artist: PAUL SIGNAC (FRENCH, 1863-1935)

Paul Signac was a French painter noted for his pioneering of Neo-Impressionism. Inspired by the work of Impressionist artists Claude Monet and Georges Seurat, Signac abandoned his initial studies in architecture to pursue painting. He was particularly influenced by Seurat's complex studies of color theory, and began painting in a Pointillist style that was largely self-taught. Among his best-known works is the colorful The Port of Saint-Tropez (1901), a vivid rendering of the Mediterranean coast that exemplifies his signature brushwork. Over time, Signac's approach transitioned from an intuitive interpretation of the outdoors to a more rigorous examination of paint properties, and he went on to co-found the notorious Société des Artistes Indépendants. A devout Anarchist, his paintings often contained coded ideology and influenced a younger generation of French artists, and played an instrumental role in the formative development of Henri Matisse and André Derain in the advent of Fauvism. Born on November 11, 1863 in Paris, France, Signac's impact on 20th-century painting was profound. His career spanned half a century until his death in Paris on August 15, 1935, and his works can be found among the world's most important cultural institutions, including the Louvre in Paris and The Metropolitan Museum of Art in New York.
The Story: French Impressionist master painter Paul Signac (1863-1935) created this etching with aquatint near the end of his career. It is recorded as his last etching, and is titled Pont Des Arts avec Remorquers. Executed in 1927 for the "Dix peintres au XXe Siecle" portfolio and issued in an edition of 250, it bears the signature Signac made on the etching plate.
Shipping Information: Packaging and shipping within Canada is $40. Each print is shipped in a protective sleeve and backing. At checkout, you will have the option to insure your purchase for shipping at up-to-$500; you will be able to select the option you prefer from the drop down menu. International shipping available. If located in the Greater Toronto Area, no charge for shipping and packaging if picked up from Wall Fiction's office; call before purchasing.

Terms: All sales are final. No refunds or exchanges. See "Buy Art" in the main menu for more information.
Item No. CA202006087