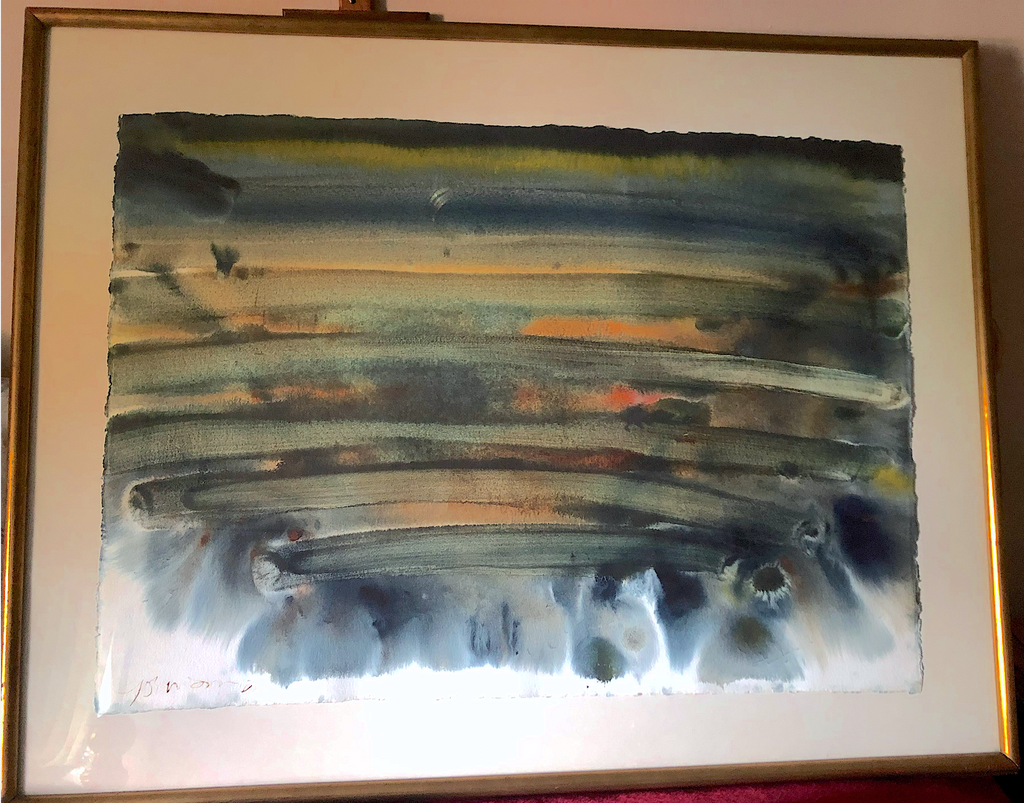 RICHARD GORMAN "LANDSCAPE SERIES #1" 1962
To zoom in, click on each image and mouse over. (more photos coming soon)
Description:
Watercolour on paper

Dated 1962

Paper: 22.5 x 31.5 inches

Framed: 30.5 x 39 inches

Condition: excellent

Provenance: The Isaacs Gallery
The Artist: Richard Borthwick Gorman (Canadian, 1935-2010)
Richard Gorman, an abstract expressionist painter born in Ottawa, was influenced by Toronto's Painter's Eleven and the abstract movement in New York. He studied at the Ontario College of Art under Jock MacDonald and graduated in 1958. Following his graduation, Gorman was represented by Av Isaacs at his Greenwich Gallery (later called Isaacs Gallery) in Toronto.

His peers included Gordon Rayner, Robert Markle, Graham Coughtry, John Meredith, and Dennis Burton. In 1966, with fellow artist John Meredith, he was selected to represent Canada at the Paris Biennial.

Gorman also produced aluminium sculptures, experimented with film and tried printmaking. From 1971 to 1989 he taught painting and drawing at the Ottawa School of Art and the University of Ottawa. In 1986, he produced a mural for the new Ottawa Provincial Court House.

Joan Murray produced a book and travelling exhibition of Gorman's work in 1990. His work has been included in group exhibitions like Dennis Reid's Toronto Painting 1953-1965, organized for the National Gallery in 1972, and more recently in the National Gallery's Crisis of Abstraction: the 1950s, organized by Denise Leclerc in 1993.  
The Story: Richard Gorman had a solo exhibition at the Robert McLaughlin Gallery, Oshawa, Ontario in 1990. In 1996, the Ottawa Art Gallery held a solo exhibition called Richard Gorman, Pure Painting. The Christopher Cutts Gallery in Toronto has been showing Richard Gorman's work from the 1990's to present day. Richard Gorman has participated in numerous group exhibitions across Canada, including Toronto Painting, 1950-1965, at the National Gallery of Canada, Ottawa, and the Art Gallery of Ontario, Toronto. Richard Gorman participated in the Paris Biennale in 1966. Gorman's work is held in the Art Gallery of Ontario, Agnes Etherington Art Centre, National Gallery of Canada, The Robert McLaughlin Gallery, Victoria and Albert Museum, and The Shanghai Art Museum. There are few works on paper that have come onto the market in the last few years and the ones that have, have been very small. This is a wonderful opportunity to add a significant Canadian abstract artist to your collection. 
Shipping Information: Packaging and shipping within Canada is $120. Signature required on delivery. At checkout, you will have the option to insure your purchase for shipping from the drop down menu. International shipping available. If located in the Greater Toronto Area, no charge for shipping and packaging if picked up from Wall Fiction's office; call before purchasing.
Terms: All sales are final. No refunds or exchanges.  See "Buy Art" in the main menu for more information. 
Item No. CA202010099