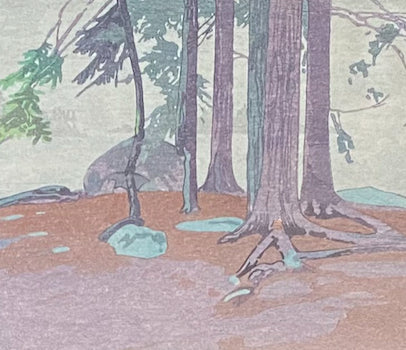 WALTER JOSEPH PHILLIPS "LAKE OF THE WOODS" 1927
To zoom in, click on each image and mouse over. 
Description:
Colour woodcut on Goyu paper mounted on card
Signed and numbered in pencil in lower margin by artist
Monogramed in print lower right
Edition: 88/250
Plate: 5.25 inches x 8.75 inches, 13 cm x 22 cm
Framed: 14.5 x 11.5 inches, 36.8 cm x 29.2 cm
Condition: Very Good, cockling and undulations due to mounting
Framed (recommend reframing)
The Artist: Walter Joseph Phillips (Canadian, 1884-1963)
W.J. Phillips was born in Lincolnshire, England in 1884. Trained at the Birmingham School of Art, he was a successful watercolour artist in England before he and his wife, Gladys, emigrated to Winnipeg in 1913. Although watercolour remained his primary medium, the woodblock print was an enduring interest which brought his work to a wider audience. Among W.J. Phillips' best-known and loved images in watercolour and woodblock print are those which depict family holidays on Lake of the Woods from the teens until 1925. In 1940, Walter Phillips was asked to be artist in residence at the Banff School of Fine Arts. He moved to Calgary in 1941 where he taught at the provincial Institute of Technology and Art.
W.J. Phillips' works are housed in galleries across Canada including The National Gallery of Canada, The Winnipeg Art Gallery, and the Whyte Museum of the Canadian Rockies as well as collections abroad in London, Washington D.C., New Jersey, Japan, and private collections the world over. The most extensive private collection of work by Phillips was gifted to the city of Winnipeg. Permanently housed in the Pavilion Gallery Museum in Winnipeg's Assiniboine Park, the Crabb collection is available for public viewing year round.

The Story: In 1927, Phillips issued his first portfolio of prints. Entitled Ten Canadian Colour Prints, the portfolio consisted of colour prints in an edition of 250 on Goyu paper (handmade Japanese paper). This is a print from that series.
Shipping Information: Packaging and shipping within Canada is $60. At checkout, you will have the option to insure your purchase for shipping; you will be able to select the option you prefer from the drop down menu. International shipping available. If located in the Greater Toronto Area, no charge for shipping and packaging if picked up from Wall Fiction's office; call before purchasing.

Terms: All sales are final. No refunds or exchanges. See "Buy Art" in the main menu for more information.