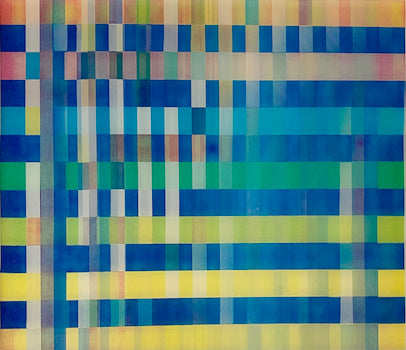 YAACOV AGAM "BIG BANG #7 AGAMOGRAPH"
More photos to come.
To zoom in, click on each image and mouse over.
Description:
Colour screen print laminated to lenticular plastic
Numbered and signed in the front margins, titled on the back
Edition 28/99
Image: 13 ½ x 14 ½ inches
Frame: 24 1/4 x 23 1/4 inches
Condition: excellent
Framed on white board
The Artist: Yaacov Agam (Israeli, 1928-)
Op art pioneer Yaacov Agam's abstract artworks—which range from painting, sculpture, drawing, and ceramics, to stained glass and etching—typically incorporate light, sound, or viewer participation. The son of an orthodox rabbi, Agam first trained as an artist in Jerusalem, going on to combine formalist art with kabbalistic mysticism, and he is credited with introducing geometric abstraction to Israeli art. Agam's best known series of works, comprised of painted strips that appear to shift and oscillate as viewers alter their points of view, would become known as "Agamographs." He has also produced public commissions, including the world's largest menorah, installed in New York City, and Star of Peace for Ben-Gurion university that fused the five-pointed star of Islam with the six-pointed Star of David. Agam met and was influenced by the Bauhaus artist and teacher Johannes Itten in Zurich, and also cites Wassily Kandinsky's abstraction as an influence on his practice.
The Story:  His lenticular prints, or Agamographs, make illusory images appear depending on the audience's viewpoint. The colours and lines change as you walk past.
"My intention was to create a work of art which would transcend the visible, which cannot be perceived except in stages, with the understanding that it is a partial revelation and not the perpetuation of the existing," he explained of his work. "My aim is to show what can be seen within the limits of possibility which exists in the midst of coming into being." - Yaacov Agom
Shipping Information: Packaging and shipping within Canada is $120. Signature required on delivery. At checkout, you will have the option to insure your purchase for shipping from the drop down menu. International shipping available. If located in the Greater Toronto Area, no charge for shipping and packaging if picked up from Wall Fiction's office; call before purchasing.

Terms: All sales are final. No refunds or exchanges. See "Buy Art" in the main menu for more information.